Regular Reviewing: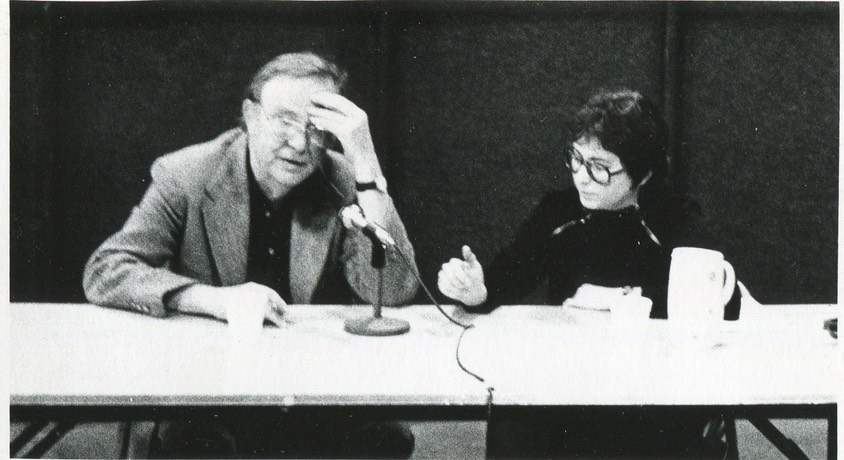 Artforum, 1972-73

Art News, 1971-72

Art International, 1973-74

D'Art 1998

Newsweek, 1979

Review, 1996-8

Soho Weekly News, 1975-77

The Village Voice, 1977-79
Robert Motherwell with April Kingsley
Individual Magazine Articles:
American Ceramics:
American Ceramics Spring 2000.pdf "Kathy Butterly Miniature Moments"
American Rag:
The American Rag, New York, NY, vol. 1, no. 2/3, 1980 "Edward Clark's Luminous Expanses"
Art Express:
Art Express Art on the Beach.pdf  "Provincetown People and Places"
Art Express the look Feb 1982.pdf "Chicago: The Look"
ARTFORUM Magazine:
December 1971 "Willem de Kooning at the Janis Gallery."

December 1972 April Kingsley on Caspar Henselmann, Hannah Wilke, Jean Linder, Tal Streeter

January 1973  Reviews of Gordon-Matta Clark at 112 Greene Street, Mary Miss, Alice Adams, Susan Smith, Alan Sonfist, Jannis Kounellis, Mary Miss and Sylvia Stone

ArtForum.Feb.1973.pdf

: April Kingsley on Adolph Gottlieb, Harold Bruder, Willard Midgette, Wolf Kahn, Louise Nevelson, Agnes Denes, Giovanni Anselmo, Ronald Bladen, Thomas Bang

ArtForum.March.1973.p69.pdf "Women Choose Women" 
April 1973 April Kingsley on Donald Judd, Ernest Briggs, Edward Dugmore, Michael Goldberg, Harry Kramer

February 1976 Vol 14 Np. 6
Art Gallery Magazine:  
Art In America:
Art In America Summer 1973.pdf "Budd Hopkins on Budd Hopkins"
Arts International:
Arts international 1973 pg 33-34.pdf "Energy and Order, the Paintings of Budd Hopkins"
"The Mad Logic of Georges Noel" March 1974

"Jack Tworkov" April 1974

"Nora Speyer" May 1974

"Ronald Bladen" September 1974

Jan/Feb 1961"The Primal Plants of Buffie Johnson"
Art News:
Reviews, 1971

"Joyce Kozloff" January 1972

"James Brooks: Stain into image" December 1972
Arts Magazine:
Arts Mag April 1972.pdf

 "Concept vs. Art Object: A conversation between Douglas Huebler and Budd Hopkins"

Arts Magazine Kingsley.jpg

 Letter to the Editor

"James Brooks: Conversation and Critique" April 1975

Arts Magazine, November 1981 "Pat Lasch: Death and Transfiguration"
Arts Magazine February 1981.pdf "From Explosion to Implosion: The Ten Year Transition of William T. Williams"
Arts Mag Sept 1985 Adolf Gottlieb.pdf

 "In the Fifties: Different Time Require Different Images"

Arts Mag May 1986 Kline.pdf

  "Franz Kline: Out of Sight, Out of Mind"

Arts Magazine November 1986 "Livio Saganic: The Obsession is with Permanence"
Arts Magazine September 1989 "The Bigness of Small: Ira Joel Haber's Art"
Arts Quarterly:
Arts Quarterly Summer 1993.pdf "Constructing in Color: Fritz Bultman's Collages and walls" PDF
Burlington Magazine:
 D'art International:
Winter1999 Perfection.pdf, Perfection 2-5.pdf

Spring/Summer1999  

drawing the line.pdf
Dialogue Magazine:
Dialogue 10, no. 3 May/June 1987 "The Impact of Criticism"
Dialogue Nov/Dec 1988 "April Kingsley on the Art World"
Fiber Arts:
Fiber Arts March 1995.pdf "Unraveling the Weave"
Glass Magazine:
Glass Magazine Spring 1997.pdf "Warm is Hot"

Glass Magazine "

Mary Shaffer, Pioneer

"

 April 1999
Horizon Magazine:
The Jewish Herald Voice:
"Esthetic asceticism pervades works of Rudolf Baranik" December 16. 1977
Ms. Magazine:
"The I-Hate-To-Cook 'Dinner Party'" June 1979 pgs 30-31
Newsweek:
But what does it mean.jpg "Kenneth Noland's Lapse" PDF
Newsweek 7.9.1979.pdf "The Great Body Snatcher"
Newsweek May.pdf "Drawings of a Titan"
Newsweek August 6, 1979 "Conflict in Color"
Provincetown Advocate:
1974 Edward Hopper
Provincetown Arts:
Review Magazine:
Shuttle, Spindle & Dyepot:
Shuttle Spindle and Dye.pdf  "Conceptual Craft"
SoHo Weekly:
Surface Design:
Surface Design Fall 1998.pdf  "Emily DuBois: The Cosmogenic Weave"
Village Voice:
Village Voice "Joyce Kozloff" November 17, 1977

Village Voice Nov.28.1977.pdf "Opulent Optimism"
Village Voice November 1977 "Flesh was the Reason Oil Paint was Invented"
Village Voice Dec.12.1977.pdf

 "Art for All"

Village Voice Jan.23.1978.pdf

 "Absorbing, Amping, Beaming"

Village Voice 5.22.1978.pdf "Narrating Life's Existential Fuck-Up"
Village Voice 9.11.1978.pdf  "Black Artists: Up Against The Wall"
Village Voice Sept 25, 1978 "Ah! Revisionism"

Village Voice 16 October 1978  "Art Goes Underground"

Village Voice Jan 15, 1979 "Visions and Revolution" 

Village Voice Jan 29, 1979 "Frank Stella: Off the Wall"

Village Voice Jan, 1979 "New Imagery Keeps its Cool"
Village Voice Mar 19.1979.pdf "Getting it Together"
Village Voice April 16.1979.pdf

  "Planes in Space"

Village Voice May.28.1979.pdf "Sticks and Stones"
Village Voice June.29.1979 "Overcoming the Double Whammy"
Village Voice June 1979 "The I-Hate-to-Cook-Dinner Party"
Womanart:
"Pat Adams" First issue Spring 1976
Woman's Art Journal:
Woman's Art Journal, pp. 1-6.pdf  "Sexual Imagery in Women's Art"